Reminiscences
of
Pastor Ole Paulson;
1907 Autobiography.
Chapter Eight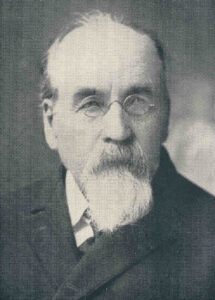 A translation from the Norwegian language into the English language.
Copyright © 2022 by Gary C. Dahle, all rights reserved.
From Turkey River to Carver
Now I went without delay to Iowa, to move the family from Turkey River to Carver County, Minnesota Territory. In those days, it was a serious undertaking to drive the 300[1] miles through wild terrain with no roads, using oxen. I sold my land along the Turkey River to my earlier comrade Kittel Sondreson for 50 dollars, yes, a whole 50 dollars. We had built a house on the land that cost more than what I got. We equipped ourselves now for the journey by prairie schooner and put up provisions for the trip. We were two families traveling together. Østen Gunnufson Svadde, a Tindøler,[2] and his elderly father came along to this, our glorious land. In the turn of a hand, we were ready for the trip. In early June, or as soon as the animals could sustain themselves by grazing the prairie, we started on the journey. For the first two days' travel, up to a little ways beyond Chatfield, Minnesota, we had something of a road. After that, we had only the tracks left by a herder who had traveled ahead of us with a herd of cattle for slaughter, to St. Paul. He also had no more than a single wagon, whose tracks we had to follow. After we had crossed the Root River in southern Minnesota, the land was desolate and empty of inhabitants. There were not even Indians or wild animals to be seen. We met only one white man, on the south fork of the Zumbro River, and a little flock of Indians at the Cannon[3] River. The Yankee, who we met on the Zumbro, was building a shanty for himself on the banks of the river, and later was going to build a flour mill there, he said. I have traveled that way since then, and sure enough, there stood a large mill on the spot where the Yankee had built his shanty. On the opposite side of the river, I found a large city, Mantorville. It was just there that the Yankee wanted to persuade us to settle. But we had only the glories of Carver County on our minds.
Nothing noteworthy happened on the entire trip. The tedium is great when one moves slowly over 200 miles of empty terrain by ox cart. We traveled and traveled, day after day for about two weeks in this barren emptiness, not really knowing where we were. We knew only that we were going to St. Paul, and we would reach it if we stayed with the tracks that we had been following. As far as the weather was concerned, we were uncommonly lucky, bright sunshine the whole time. One day we came to a river similar to the one we had crossed at what later became Mantorville. It was the north branch of the Zumbro. We crossed the river. Here we came to the most beautiful land we had seen on the whole trip. It was so uncommonly beautiful that even we, with our exacting requirements, had to stop and look at it. Here there were lovely woods, rich prairie, fine hayfields, a wealth of water. The land sloped nicely toward the river. As well as I can figure, it was approximately west of Kenyon some miles. Here we would have liked to build and settle, but we didn't know where we were. We had to go on. Here we lost the tracks. We now had nothing to guide us other than my little compass, which I carried in my pocket. We set our course in a northwesterly direction, drove through brush and over a steep hill by a small creek valley. We followed the small dale and met a group of Indians. We spoke with them and asked how far it was to St. Paul. They shook their heads. We had to leave our friends, the Indians. The trip continued down through the dale. Now we came to an uncommon landscape. The prairie was as flat as a pancake, and out of this flatness there rose up, here and there, tall, nearly vertical, rocky buttes. Toward evening, we came again to a river. It was the Cannon River, some four or five miles north of where Northfield is now located. Here we had difficulty crossing the river. Finally we succeeded. Now it was evening and we took lodging for the night in our prairie schooners. Early the next morning, we went up to the top of a very high hill to look out and see if we could find any human habitation or human life. Not the smallest sign of life was to be seen. This was on the same prairie where we, the prior spring, sought land, only further to the west. The trip continued as before, in a northwesterly direction. After an hour's drive, we came to a curious vertical cliff, about 40 or 50 feet high and not more than 16 feet across. This great cliff stuck up out of the prairie like a masonry fireplace. It was the so-called Castle Rock that we had found. Still no life to be seen. We had to go further in a northwesterly direction. When we had driven a couple of hours on the prairie, we came to a large, old road. It was the so-called Dodd Road[4] from Fort Snelling to Faribault.[5] Now we took this road, and in a few hours we were in Mendota. Here we crossed over the Minnesota River by ferry to Fort Snelling. From there to Carver was the worst portion of the route that we had had on the whole trip. Not only was there no road, but we had to chop our way through thick woods in many places.
To shorten this story, our prairie schooners finally stood on the piece of land I had chosen for myself. While I had been away, quite a few new settlers had come, both to Carver County and the settlement. But how disappointed we were! As lovely as it had been a couple months earlier, it was equally unattractive now. The brush and weeds had grown up and the mosquitoes wanted to devour us alive. This was no place for decent human beings to be. Now we regretted the fine land we had seen and wanted to go back there. But my old mother said: "No, I'm not traveling anymore," she said. "I have traveled enough." That decided the matter. She did not move, either, from the time we opened the land until death moved her 29 years thereafter, at 86 years old. Father died 10 years before her, in 1873, at 73 years old.
Now we would embark upon the struggles that come with being a settler. First on the program was a house. I set out to build a good, large log house. It was the only house on the opening[6] the first winter. Here we lived together, nine men. The only women in the company were my mother and little sister, Anna. The floor and ceiling in the house were of split wood. Lumber was not to be had any nearer than in St. Paul. There we sat in the evenings in a circle around the cookstove, and smoked and chatted to pass the time. The life of the settler has its own poetry about it. It was first in the following summer that the neighbors began to get houses for themselves.
He Was Not a Pastor
It was quite early in the '50s that we wanted to have a congregation. Settlement began to come at such a pace that already in 1855, there were plenty of people to form a fairly large congregation. The first Lutheran pastors who visited us were the pastors Cederstam, Lars Paul Esbjørn, Eric Norelius, and, one time, Tufve Nilsson Hasselquist. I don't recall when the congregation was actually organized, but I suppose it was as early as 1856. In the summer of 1898, the congregation celebrated its 40th anniversary with festivities. Based on that, the congregation would have been organized in 1858. It was in that year that we got our first permanent pastor, namely Peter Carlson. But I think the congregation was established before that time. One thing I know is that we had built ourselves a church prior to that time. It was the old log house that was later moved a distance and used as a schoolhouse, the so-called St. Ansgar Academy.
Before we had organized our actual work as a church, we received a visit from an old Baptist pastor, Nilson. I remember once, when Nilson had preached one Sunday at the home of a man named Gudmunson, that N. N.[7] came to him, addressed him, and said: "I want to ask the pastor if he would be so good as to baptize my child." The pastor gave him no answer. The man had to leave with his child. But the one I really wanted to discuss here was one who came to us and gave himself out to be a Lutheran pastor, but was not. His name was Brown.
The first time I saw the "pastor" was at a Fourth of July arrangement, when he stood with a liquor glass in his hand and said: "Skol, boys, I'm no hypocrite, not I." I thought to myself: No, you certainly are not! You hang out your sign, so that everyone can see what kind of man you are.
Brown was a well-educated man and was a good speaker, but he had had to leave Sweden because of something bad that he had done. But the worst thing about him was that he was a helplessly addicted drunk. This dilapidated drunkard gathered the people and preached for them for an entire year's time, or more. He read with the young people who were going to be confirmed, too. Finally, he became too much for us and we wanted to be rid of him. What helped us most was that our Pastor Brown also preached at other places. One Sunday, he was to St. Paul, preached there, and gathered a large offering. He stopped at a German hotel, where there was a saloon. In the evening, he drank himself so full that he sullied his pastoral dignity by letting go the contents of his inner person in his pants. This scandal reached our ears. Pastor Norelius was with us by chance and brought the matter forward to the people at an official meeting, after the worship service on a Sunday. He accused Mr. Brown of immoral conduct. Brown attempted to defend himself the best that he could. It was then that Pastor Norelius brought forward the scandal from St. Paul in all of its repulsive detail. Brown could not deny the truth of the accusation. This hearing ended Mr. Brown's pastoral work in the congregation. A short time thereafter, he left for the Christiania or Lakeville Settlement,[8] where he gathered people and preached for a time. When I came to the settlement a little before Christmas in 1859 as colporter (about which more later) there were still signs of Brown's work remaining. There, where Pastor Kvammen[9] lives, stood a shanty, which people said was or had been Mr. Brown's residence. Later, Brown was heard from among his countrymen in the settlement at Moores Prairie.[10] After a time, he disappeared from history's page, leaving no words behind him. He is most likely long since dead.
Mr. Brown was a learned man, but not learned as a pastor. He had held positions of trust in the government in Sweden, but made free with himself in one or another way, so that he found it best to vanish to America, where he then attempted to play the part of a pastor. But for him, it couldn't be long before he was found out. For it was true, what he had said, when he initiated his work with a glass in his hand: "Skol, boys, I'm no hypocrite, not I."
[1] The number 300 here seems to be a typo. A little further down, Paulson says it's a 200 mile trip. That is probably a more accurate number. The route he took was not very different from the route people might drive today, taking Highway 52 then Highway 55 from Decorah, Iowa, north to Mendota, Minnesota, then going west on Interstate 494/Highway 5 into Carver County. Using that route, the distance from Decorah to Waconia, which is approximately in the middle of Carver County, is roughly 180 U.S. miles.
[2] A Tindøler is a person from Tinn, in the former Telemark County (now called Vestfold og Telemark), in Norway.
[3] Paulson's text says "Carmon River," but that is probably an editing or typesetting error. I believe Paulson meant to say "Cannon River." Searches for a Carmon River in Minnesota or Iowa don't turn up anything, but the Cannon River would have been on Paulson's route to Mendota. His handwritten "nn" could have been mistaken for an "rm."
[4] The Norwegian text says "Dodge Road," but that is almost certainly an error. Paulson is most likely referring to the Dodd Road, which was built in 1853 and was an important route from Fort Snelling and Mendota into south central Minnesota for early European settlers. See a brief history of the road published by the Dakota County Historical Society here: https://ww.dakotahistory.org/images/OvertheYears/OTY-200310-Dodd-Road.pdf
[5] Paulson writes "Faribault," but the Dodd Road did not go through what we think of as Faribault in the present day. It did go through a place called Shieldsville, which is roughly 10 miles to the northwest from the center of Faribault. Shieldsville is located on Rice County Road 10, which is still called Dodd Road.
[6] "Opening" here means a local area of newly claimed land, not just Paulson's own claim, but surrounding claims.
[7] It's not clear who N. N. is, or what those initials stand for. It must have been a man who was Swedish, because Paulson's quotation of the man's request to the pastor is in Swedish.
[8] Christiania Settlement was in Dakota County, in the present-day Eureka township. Lakeville Settlement was also in Dakota County.
[9] I wasn't able to locate a first name or a Pastor Kvammen whose life details (birth year, et cetera) would match up with this person's.
[10] The Norwegian text says "Moors Prairie." There is no record of that place-name in Minnesota least that I could locate. Possibly, it was a settlement in another state or territory. But a more likely explanation is that this is a misspelling of Moores Prairie. That was an early name for the largely Scandinavian settlement that later renamed itself Cokato, Minnesota. See more at https://www.cokatomuseum.org/cokato-history.html
Translation of chapter from the Norwegian language into the English language, and preparation of footnotes, by Denise Logeland.