Reminiscences
of
Pastor Ole Paulson;
1907 Autobiography.
Chapter Three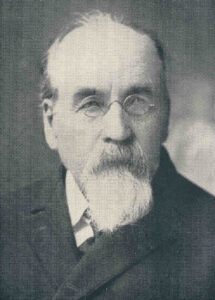 A translation from the Norwegian language into the English language.
Copyright © 2022 by Gary C. Dahle, all rights reserved.
Church Conflict
In 1850, there were relatively few Norwegian pastors in America. But disagreement and conflict have been present right from the start. This conflict degenerated often into petty squabbles. What's remarkable is that the conflict began with the pastors and was carried on by the pastors. The people have, in reality, always been in agreement and have gathered themselves around the truths emphasized in their childhood learning. Departures from the teachings of childhood have bred conflict. But it was of a piece with church politics that one had to find a bone to squabble over.
The first pastors to make their way here were real gamecocks, as, for example, Johannes Wilhelm Christian Dietrichson and Elling Eielsen. These two were real fighters for the church. They often met, and then one could expect a scuffle. Eielsen was sarcastic and pointedly withering. The other was not much better. It is said that one time, when they met and had had a lively exchange of words, Eielsen grabbed his adversary by the beard and quoted Luther's words about the pope:
"Hear me now, Pope, for I will be your pestilence as long as I live," et cetera.
I won't exactly vouch for the truth of this scene between the two spiritual combatants, but it is a very apt characterization. It was most likely half in jest that Eielsen grabbed his friend by the beard and gave him a mild shaking. Otherwise, one can hardly imagine it possible that Dietrichson would have tolerated such treatment, unless he was afraid of even worse, for at that time, Eielsen was a pretty robust Vossing.[1]
But from the very beginning, as mentioned, there has been conflict in the church.
On one side of the ranks of those fighting, we have the pastors Claus Lauritz Clausen, Hans Andreas Stub, Johannes Wilhelm Christian Dietrichson, Adolph Carl Preus, Jakob Aall Otteson, and Gustav Fredrik Dietrichson. On the other side, we have Elling Eielsen, Paul Anderson, and Ole Andrewson.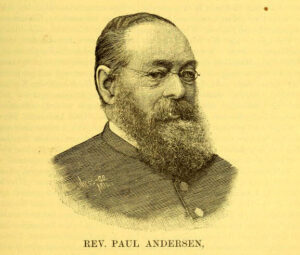 The subjects of the conflict were the Norwegian pastoral vestments and Grundtvigianism,[2] especially certain of its views, such as the teaching about conversion after death. The first pastors to make their way to this country, such as Claus Lauritz Clausen, Johannes Wilhelm Christian Dietrichson, Hans Andreas Stub, and Adolph Carl Preus, among others, were more or less Grundtvigians.
It was unthinkable that Eielsen could coexist with them under the roof of a church. On the other side, the Wisconsin Pastors, as they were called then, neither would nor could acknowledge Eielsen as a rightfully ordained pastor. They regarded him as simply a zealot and a commonly educated layman who had no right to pray or preach in an official gathering, as we shall see later.
Eielsen did not handle his bitter opponents with tender hands, either.
He condemned the long frocks—and those who wore them, I was close to saying. The Norwegian pastors' vestments were, in his eyes, a mark of pharisaism and the papacy itself. He got incorporated into his constitution[3] a paragraph in which the long frocks were condemned.
Old Eielsen was, as mentioned, quite sarcastic and often withering in a very personal way. When it came to defending his constitution, he would permit himself some pretty original insults.
In the vicinity of Decorah one time, in Pastor Ole Hatlestad's church, there was a conference between Eielsen's Synod and the Augustana Synod's Norwegian and Swedish pastors about a possible merger.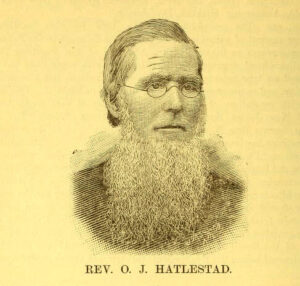 It was during the winter of 1862. An agreement was reached at this meeting to discuss each other's synod constitutions and identify the possible errors they contained. One of the Swedish pastors had pointed out the paragraph about the long frocks and criticized it. Then the gathering turned heated and angry: "It is with our constitution as with a clean sheet, which one hangs out to dry. The flies land on it and—yes, soil it," Eielsen said.
He used another word for "soil," more blunt and to the point. Surely the handsome Swedish pastor had no real reason to harbor grand ideas about himself when he saw himself portrayed as a fly on Eielsen's clean sheet.
But there has never been any particular conflict between Eielsen and the Augustana people when it comes to teachings. What divided Eielsen and Paul Anderson, as well as Ole Andrewson, remains a mystery to this day.[4]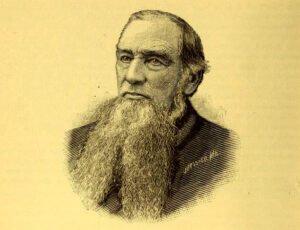 Between them, there was agreement about the pastors' vestments. They were, all three of them, of the same Haugean school of spiritual thought. All of them were enemies of Grundtvigianism and worked for an awakening among the people. They kept on with prayer meetings in their congregations. In short, they were essentially in agreement on all things. This was also acknowledged among the so-called Wisconsin Pastors.
In addition to the disagreement about vestments, there were many other things that stood between the disputing factions, such as:
Absolution by the laying on of hands at[5] confession, the liturgy, conversion after death and prayers for the dead, belief in the church and the communion of saints, the third article,[6] and the granting of greater importance to symbols than to the holy scriptures.
In 1851, the following points were issued, authored by Pastor Adolph Carl Preus and accepted by the synod for seven years, before Pastor Rasmussen demanded that Preus rescind his errors at a meeting at Rock Prairie in the autumn of 1858. These points were as follows:
The foundation of the church is baptism and the profession of faith.
Profession of faith must accompany the Word, as the key that opens the mysteries of the Word.
The church is an assembly of the baptized.
Faith in the church.
The church and the communion of saints [are][7] two separate bodies.
The essence of the church is the Gospel in word and sacrament.
Present at the meeting were the following pastors: Adolph Carl Preus, Herman Amberg Preus, Nils Brandt, Gustav Dietrichson, Hans Andreas Stub, Ulrik Vilhelm Koren, Johan Storm Munch, Peter Marius Brodahl, L. Larson,[8] Jakob Aall Otteson, and Olaus Fredrik Duus, on the one side; Peter Andreas Rasmussen and Hans Larsen Thalberg on the other.
In addition, the professors A. Cramer and Carl Ferdinand Wilhelm Walther of the Missouri Synod were present by invitation.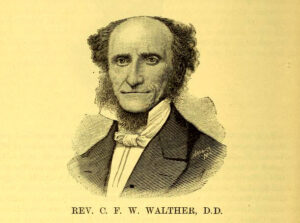 Professor Cramer was chairman of the meeting and Professor Walther was secretary.
The objective of the meeting was to reach an understanding and agreement between these two factions.
It was at this memorable meeting that Adolph Carl Preus did penance and rescinded these, his assertions about the church. But it had been seven years previously that he had written them and made them public, so that he cannot be said to have strayed alone. There were, however, whole congregations that did not accept this errant spiritual leaning, as, for example, Muskego and Port Washington, as well as other congregations, who made a serious effort, when Stub resigned, to get ahold of a pastor who was not a Grundtvigian. Muskego and Port Washington, with other congregations, namely formed a single call. Hans Andreas Stub was their pastor until he went to Coon Prairie, Wisconsin. What was remarkable at this Rock Prairie meeting, however, was that Adolph Carl Preus alone had to stand corrected for straying, even though there were several others present who were of the same "wool" or spiritual inclination.
Once people had finished with Grundtvigian thinking, which Adolph Carl Preus especially represented, they began to inspect Pastor Peter Andreas Rasmussen down to his seams. He also had quite a bit to stand corrected for. Pastor Ottesen was assigned to "express everyone's deliberations about Rasmussen."
First, Rasmussen had to answer whether, when he was in communion with Eielsen, he knew whether Eielsen was ordained? Rasmussen declared that he, upon investigation, had come to know that Eielsen was ordained, by Pastor Hofman. The pastors who were present cited facts that made Eielsen's ordination dubious in the highest degree. Ottesen reported that Eielsen had an entirely unchurchly practice, which Rasmussen also had followed: namely, to have encouraged lay people to pray in official gatherings of their congregations.[9]
Rasmussen acknowledged that in his congregation, he had a practice of encouraging known believers to lead prayers at gatherings. He gave assurance that he did not see this practice as improper, when all was done respectably, but to the contrary, saw it as beneficial and useful.
However, he declared that he would no longer follow this practice, if he were to be convinced that it was in conflict with God's Word.
The remarkable thing was, as stated in the meeting minutes: "The entire gathering, including professors Cramer and Walther, disagreed with Rasmussen in his foundational tenet, that it was proper and useful to initiate such prayer meetings on a regular basis."[10]
Ottesen declared it un-Lutheran that Rasmussen, over an extended period, had stood with Eielsen, whose constitution was altogether un-Lutheran.
Rasmussen could not allow that the constitution was altogether[11] un-Lutheran; he himself had worked to remove from the constitution whatever there had been that was un-Lutheran.
Adolph Carl Preus wanted to know whether it was Eielsen's life or his teachings that had caused Rasmussen to distance himself from Eielsen. Rasmussen answered: "Both."[12]
Now Ottesen wanted to ask whether the Norwegian pastors had not been in the right when they did not want to have any churchly fellowship with Eielsen, and neither with Rasmussen, given that he had such an un-Lutheran constitution?
Rasmussen affirmed this, that the Norwegian pastors had reason to suspect the orthodoxy of his Lutheran beliefs, as long as they could not know where he stood and how he acted.
Pastor Thalberg declared himself, upon inquiry, to be in agreement with Rasmussen's statement with regard to the prayers of laypersons in official congregational gatherings.
Ottesen declared that another reason for suspicion about the extent to which Rasmussen was purely Lutheran[13] was the resolution in Rasmussen's congregational constitution that any pastor whom they would accept must himself be converted to a bishop of their souls.[14]
Rasmussen stated that with this word "must"[15] he had only wanted to suggest that a congregation, as much as possible, had to ensure that it had obtained a pastor who had converted to Christ.
This remarkable meeting ended with a statement, that the members of the Norwegian Synod, in spite of this errant divergence with regard to laypersons' prayers and preaching in public gatherings of the congregation, did not regard Pastor Rasmussen as a "heretic and false prophet, but as a brother and teacher, who had, however, by the named departures gone astray." Signed by all of the pastors, the chairman, and the secretary.
This concludes, for now, the account of church conflict at that time among the Norwegian Lutherans in America. We will come later to a church conflict of a more serious nature.
[1] A Vossing is a person from Voss, a municipality in western Norway, northeast of Bergen in Vestland County.
[2] Grundtvigianism is a thread of Lutheranism that centered on the philosophy and teachings of Nikolai Frederik Severin Grundtvig (1783–1872,) a Danish bishop, historian, and author. Grundtvigians advanced, among other things, the belief that the Apostles Creed was divine in origin and equal to the Bible, that the Bible itself was not infallible, and that souls could be converted after death. Grundtvigian influences became part of the State Church of Norway in the early and mid-1800s, and likewise, influenced the early leaders of the Norwegian Synod in Wisconsin, who were criticized by other Norwegian-American Lutheran clergy for incorporating Grundtvigian ideas into their synod constitution.
[3] This refers to the "Old Constitution" of the Eielsen Synod, which was signed by member congregations in 1853.
[4] In a 1921 address to the Evangelical Lutheran Synod, which is a later iteration of the Norwegian Synod, synod president Bjug Harstad describes a falling out among Eielsen, Anderson and Andrewson over the latter two (and Pastor Andreas Scheie) leaving the Eielsen Synod for the Franckean Synod in 1848. The address is published on the website of the Evangelical Lutheran Synod here: https://els.org/resources/document-archive/presidents-messages/message1921/
[5] These first eight words of the sentence appear to be in boldface type. It's hard to know if it was intentionally done or is an artifact of the printing process used in 1907. While this spot and one other appear to be accidental, in other cases, the bold type seems intended to underscore a fact. In this translation, I will footnote all of the bolded passages in case there is some significance to them.
[6] It's not clear what the "third article" refers to here. Further research would be needed to shed light on this. It might be helpful, for example, to locate the proceedings of the 1858 meeting at Rock Prairie that Paulson goes on to describe in this chapter.
[7] There appears to be a word or words—particularly a verb—missing here in Paulson's book, so I have guessed.
[8] Probably this is a reference to Pastor Peter Laurentius Larson.
[9] The final portion of this sentence, everything after the word "namely," is bolded in Paulson's book.
[10] The quoted material in this paragraph, everything after the colon, is bolded.
[11] The word "altogether" is likewise bolded.
[12] The question raised in this paragraph—everything from the word "whether" onward and all the way through Rasmussen's answer—is in boldface type.
[13] The phrase "the extent to which Rasmussen was purely Lutheran" is bolded in Paulson's book.
[14] The end of the sentence, from "that any pastor…." onward, is bolded.
[15] The word "must" is likewise bolded.
Translation of chapter from the Norwegian language into the English language, and preparation of footnotes, by Denise Logeland.